What is Trap Shooting?
The word "trap" refers to the usage of a trap in which a live bird was placed and released on command and then an attempt was made to shoot it. The earliest printed description of this sport was in Feb. 1793 in England. It became one of England's most popular sports and migrated to the United States in 1831. The evolution of the sport replaced live birds with glass balls and then clay targets. The clay is called a "bird" and the machine which throws the bird is the "trap" and it is housed in a "trap house". The shooter is 16 yards behind the trap house, and targets rise and fly away from the shooter. The shooter moves moves in a semi-circle throughout the round to change the angle and difficulty of the going-away shot.
What Constitutes a Round of Trap?
A round for one person consists of 25 shots, five each from five shooting stations, the object being to score the greatest number of broken targets. Most competitions shoot four rounds for a total of 100 targets.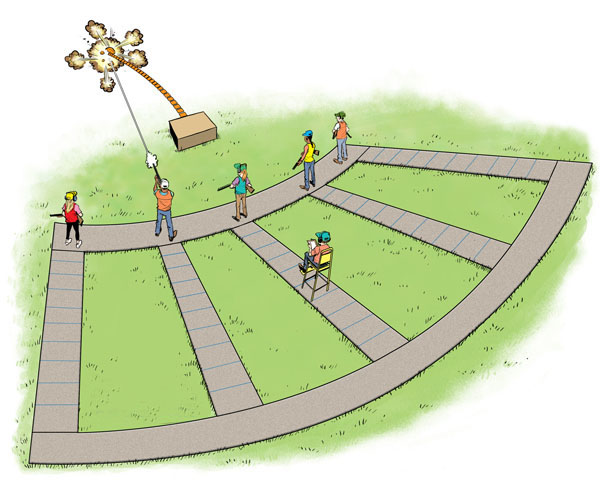 What is International Trap?
International or Olympic Trap is a faster version of the trap game. The targets are thrown about 75% faster than ATA trap. While ATA presentation is ± 22 degrees and only one height – about 2.3 meters, International trap goes ± 45 degrees and the height varies from 1.5 to 3.5 meters. A computer controls the machines so that each shooter gets the exact 25 targets, just in unpredictable order. Each shooter gets two shots at a single target, and moves stations after each shot. Finally the shells are limited to 24 gram of shot (slightly less than 7/8 oz). This is the game one must master to get to the Olympics or other Major games like World Championships, the Pan-Ams or Commonwealth Games.