The Saskatoon Gun Club offers its patrons the use of some of our firearms for use. However, there are certain requirements that are mandated by the Canadian Firearms Centre that we must follow and we have our own policies for you to use our firearms on the range. These requirements and policies are in place for everyone's safety. In order to rent a gun:
You must have a valid PAL/POL or, be under the direct and immediate supervision of an individual with a PAL/POL, who will be required to rent the gun.
You must fill out our gun rental form.
You must use our ammunition.
You must remain on the property with our firearm.
You will be required to leave your credit card with the Club Manager.
Pricing
Non-Member Prices:
New Premium Guns – $35.00
20 gauge Franchi (Synthetic) – $25.00
Experienced Guns – $15.00
Member Prices:
New Premium Guns – $25.00
20 gauge Franchi (Synthetic) – $15.00
Experienced Guns – $10.00
Sharing a gun is permitted at an additional $25/shooter.
One gun exchange will be permitted after minimal use at no charge (additional exchanges at ½ price of the final gun selected).
New Premium Guns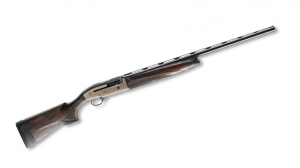 Experienced Guns
Our experienced gun rentals include a mix of 12 gauge pump actions.
Testing/Comparing Goose Hunting Guns
For testing the recoil reduction of the following 3 shotguns, the Beretta A400 Xtreme PLUS, Benelli Super Black Eagle 3, or the Benelli Super Vinci you may use 3" and 3.5" shells which are available from the Club Manager. The following conditions apply:
The gun rental fee will only be for 1 gun (most expensive).
Any 1 of the 3 guns may be used for the remainder of the day for shooting target loads
The Club Manager will ensure that the appropriate choke is in the gun (modified or more open which is 3, 4 or 5 dashes)
The Club Manager, a Director or a Club Member will be assigned to the individual and will accompany the shooter to the designated area along with the guns selected.
Shots may only be fired to the East direction (no target shooting), from one of the four skeet or 5-stand fields – provided they are not being used.
3 shells will be permitted to be loaded at the same time and shot repeatedly.
3.5" shells will be sold in multiples of 3 for $15
3" shells will be sold in multiples of 3 for $6
2-3/4" target loads will be sold by the box at club rates.
Upon completion of testing the guns not selected will be returned to the Club Manager.