What is Skeet Shooting?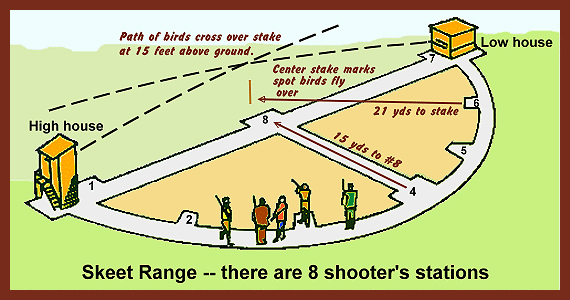 The term "skeet" refers to an old Scandinavian word meaning "to shoot." It stands for competitive, target shooting sport that was invented in America in 1920 by several Massachusetts men who wanted to improve their aim before hunting season. Their system of simulating the flight patterns of live birds with hand-propelled clay targets began as a spirited game between hunters. Today, a modern version of that game has become an international sport in its own right – for non-hunters and hunters alike. It is the skill and thrill of marksmanship that unites all skeet shooters.
What Constitutes a Round of Skeet?
A round of skeet for one person consists of twenty-five shots, the object being to score the greatest number of broken targets. The targets are a combination of going away, incoming, and crossing targets at 30o, 60o, and 90o. They are shot in singles from each side and then a pair.
Competitive Shooting
The Saskatoon Gun Club is home to Canadian Olympic style skeet champion Richard McBride.